In Memory
Bill West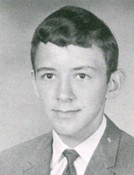 W. William (Willie) West, age 52 of Mankato, died suddenly on Christmas Day, following a valiant two and a half year battle with leukemia.

William was born on April 16, 1951 in Redwood Falls, Minnesota to Ward and Chrystal (Wilkinson) West. He was a 1969 Mankato High School graduate. He was a life-long resident of Mankato and had worked at Mankato Free Press, Spinners Bar, Kato Cab, Stone Toad, Marigold Dairy and various other places over the years. He enjoyed movies, animals, and sports, especially watching football.

Bill is survived by his parents, Ward and Chrystal West of Mankato; two sisters, Karen Buskey of Shoreview, Kathy West of Seattle, WA; two nieces, Nicole Hager and husband, Gary, Jennifer Buskey and her significant other, Kristin Lawson; a nephew, Scott Buskey and his wife, Jessica; great-nephew, Maxwell Buskey; and by his bone marrow donor, Danny Walker of Texas.