In Memory
Leo Ternes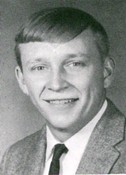 Leo Allan Ternes, age 58 of St. Peter, died Wednesday, November 19, 2008 at Immanuel St. Joseph's Hospital in Mankato.
Mass of Christian Burial will be held at 10:00 a.m., Saturday, November 22, 2008 at the Church of St. Peter with Fr. Phil Schotzko officiating. Burial will be in Kasota Hill Cemetery. Visitation will be from 4-7 p.m., Friday at the Church of St. Peter with a 6:30 p.m. prayer service. Visitation will continue one hour prior to the service at the church on Saturday. St. Peter Funeral Home-Klein Chapel is in charge of arrangements.

Leo was born on February 23, 1950, to Charles P. and Claire Ann (Flynn) Ternes in Blue Earth, MN. He attended Mankato West High School graduating in 1969. He was united in marriage to Sharon Brandt on June 19, 1971 in St. Peter. He served his country in the United States Navy from 1970-1974. He was employed at Kato Engineering for 41 years before his health did not allow him to work anymore. He was a member of the Church of St. Peter and the St. Peter American Legion, and the IBEW Union. He enjoyed hunting, fishing, watching football and wrestling, listening to baseball on the radio, and camping, especially in Sauk Centre and Duluth.

He is survived by his wife, Sharon Ternes of St.Peter; daughter, Beth Ternes and special friend Casey King of St. Peter; grandson, Cameron King; siblings, Cathy (Don) Mashburn of Sand Springs, OK, Marcia (Gary) Hellen of Winnebago, Charles Ternes Jr. of North Mankato, Mary (Randy) Mashburn of Bixby, OK, Paul (Deb) Ternes of Cleveland, and Sharon Sartin of Sand Springs, OK; mother-in-law, Catherine Tietz of St. Peter; sisters and brothers-in-law, Betty (Gordy) Hale of Kasota, Ernie (Bonnie) Brandt, Nancy (Ron) Mealman, Patty Brandt, Kevin Brandt, and Dale Brandt and special friend Connie all of St. Peter, and Gail (Jeff) Roberts of Kasota; step-sister, Sandy Blekestad of Mankato; many aunts, uncles, nieces, nephews, cousins, other relatives and friends.

Leo was preceded in death by his parents; grandparents; father-in-law, Wilbert Brandt; step father-in-law, Carl Tietz; and one great-grandniece.