In Memory
Duane Ruedy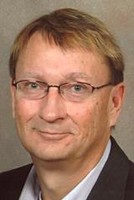 MANKATO — Duane H. Ruedy, 59, died Thursday, September 16, 2010, at the University of Minnesota Medical Center – Fairview in Minneapolis.

Duane was born on June 27, 1951, to Donald and Elaine (Worke) Ruedy in Waseca. He graduated from Mankato High School in 1969. On October 19, 2005, Duane was united in marriage to Margaret "Maggie" Wandersee at St. John the Baptist Catholic Church, Mankato. Duane enlisted in the U.S. Marine Corps on August 12, 1969, and served three years which included one tour of duty in Vietnam. He was honorably discharged from the Marines as a Corporal. Duane was very proud to have served his country during this period of history. He was a life member of the Veterans of Foreign Wars.

Duane began working for MRCI in 1994 as a program support staff. He also worked as a support staff for a couple of group home companies in Mankato. He extremely enjoyed spending time and working with adults with disabilities. He needed to retire from MRCI in January 2008 due to medical issues. He had been looking forward to return to work in some capacity once again with people with disabilities once he was able to have a liver transplant.

Duane was a devoted husband to his wife, Maggie as well as a step-father and grandfather. His most important and enjoyable pastime was spent with his wife, Maggie and his grandchildren.

Duane was an avid reader which included a wide range of topics and interests. He enjoyed traveling, especially to Jamaica. He enjoyed listening to music and comedy.

Duane is survived by his wife, Maggie; father, Donald Ruedy; step-children, Mary and Paul Wandersee; grandchildren, Arianna Kathleen and Jackson James; several aunts, uncle and cousins.

Duane was preceded in death by his mother, Elaine Ruedy in 2009; mother-in-law and father-in-law, Lowell and Hazel Johnson; and extended family.