In Memory
Joe Butler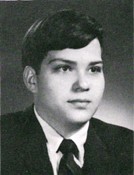 Joseph Boyle "Joe" Butler, age 63, lifelong Mankato resident, died Friday, March 29, 2013 on his birthday at Hennepin County Medical Center in Minneapolis after a brief hospitalization.

Mass of Christian Burial will be held at 10:30 a.m., Wednesday, April 3, 2013 at St. John the Baptist Catholic Church in Mankato. Burial will be in Calvary Cemetery, Mankato. Visitation will be held from 9 a.m. until the start of the service at the church. Mankato Mortuary assisted the family with the arrangements.

Joseph Boyle Butler was born on March 29, 1950 in Mankato to Charles, Jr. and Elizabeth (Clements) Butler. He was raised in Mankato and graduated from Mankato High School in 1969. Joseph graduated from Mankato State University with a Bachelor of Science Degree in 1974.
Despite his handicap (Joe would fiercely deny being confined to a wheel chair all of his life constituted a handicap), Joseph worked at Clements Auto for many years.

He enjoyed family gatherings. He was a favorite uncle of all the nieces and nephews, giving them rides on his wheel chair and playing games with them. He especially enjoyed driving his automobiles, touring the countryside, and playing computer games.

Joe is survived by his brothers, Charles C. (Marie) Butler of Mankato, R. Lanse (Linda) Butler of Fort Myers, FL, and David G. Butler of Madison Lake; sister-in-law, Tonhae "Soonie" Butler of Minneapolis; and many nieces and nephews.

Joe was preceded in death by his parents; brothers, Francis B., Paul D., and Mark G.; sister, Marie L.; and niece, Christine "Tina".