Welcome to the Mankato High
Class of 1969 Website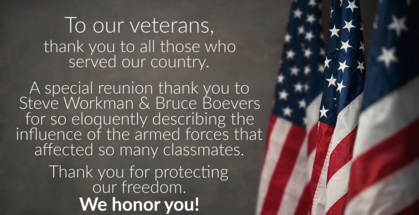 ______________________________________
I received a notice today that classmate
Judy Swanson (Babcock) has passed away.
There will be no obituary but you can view this link:
There will be a celebration of Judy's life November 3rd from 1 to 3 at the Bosque farms community center, 950 North Bosque loop Bosque farms New Mexico. If not there physically take a moment at that time to remember the tremendous woman she was, and the thousands a little dogs that found their way into her rescue, and so many other rescues she supported. In her honor please spay and neuter as there are so many unwanted pets. if anyone is looking for a place to send cards she would have loved it if any donations were sent to spay and neuter, or rescue programs in her honor.
https://www.facebook.com/judy.babcock.98
---
ANNOUNCEMENTS
•

Thank you to all committee members, for making our 50 year reunion GREAT. You worked hard and put a lot of time into making this reunion the best one yet. I know that everyone who attended, appreciated every aspect of our 3 day event.
Thank you and God bless you. Debbie Gaddis